Lured by Angkor, the ruins of the great Khmer civilisation which vanished five hundred years ago, Denise Heywood found a contemporary society that had been almost destroyed fifteen years ago.

The Hindu temple complex of Angkor in the Cambodian jungle is one of the wonders of the world, the greatest archaeological site in Asia and the largest religious building in the world. After the empire's decline in the 14th century, the site slumbered in oblivion, and it was only after it was 'rediscovered' in 1860 that it came to the attention of the West. In an area of 400 square kilometres, there are about 100 magnificent monuments, some crumbling and overgrown with vegetation. Angkor Wat is the best preserved temple, covered in exquisite carvings and now a sacred Buddhist site.

In the 1970s, the dark shadow of war fell across Cambodia, which was known as the 'sideshow' to the Vietnam War. In April 1975, the Khmer Rouge invaded Phnom Penh and evacuated the entire city. People were marched out into the countryside to do forced labour. Between one and three million died, out of a total population of eight million, many in the killing fields of Pol Pot's genocidal regime.

Today, peace has returned to a country devastated by turmoil. With it has come recovery and renewal. Cambodians have started to revive their artistic traditions. Once more, the classical dancers, resplendent in gold spun costumes, perform delicate dances of celebration before the temple of Angkor Wat.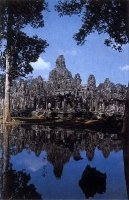 Bayon Temple, Angkor, Cambodia
©2021 Denise Heywood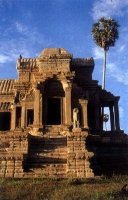 Angkor Wat, Cambodia
©2021 Denise Heywood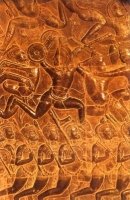 Bas-relief, Angkor Wat
©2021 Denise Heywood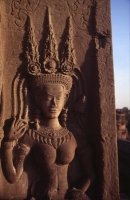 Apsara, Angkor Wat
©2021 Denise Heywood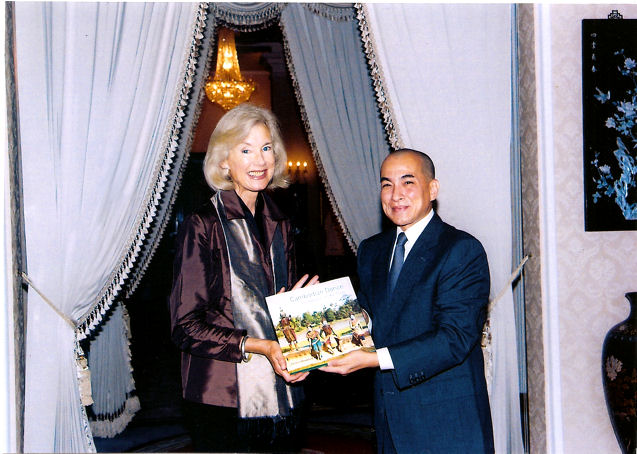 Denise with Norodom Sihamoni, King of Cambodia
'I would like to express my deep gratitude to you. I am confident that through your untiring efforts the Cambodian culture will be better known by the world community.'
Norodom Sihamoni, King of Cambodia
'Your talk on Angkor was a truly revelatory experience … your enthusiasm and beautiful photography have really helped to imprint its spectacular nature on our consciousness.'
History of Art Department, Cambridge University

'The depth of your knowledge together with your love and enthusiasm for Cambodia were so abundantly evident throughout your lecture that we were all transported.'
National Association of Decorative and Fine Arts Societies

'An impassioned and masterly lecture …. such an insight and stunning collection of pictures … you enthralled a full audience'
Sir David John, Royal Society for Asian Affairs

'Congratulations on your talk … fluent, articulate, evocative, and really moving'
Sir Leslie Fielding, Former Ambassador to Cambodia

'How grateful we are to you for hosting such as excellent lecture'
Stephen Deuchar, Director, Art Fund