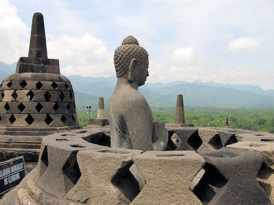 Borobudur
©2021 Denise Heywood
Borobodur is an earthly manifestation of the Buddhist
vision of the universe, covered with 1,460 radiant
narrative carvings. Constructed in the 8th century
and mysteriously abandoned, the temple lay hidden
under ash after a volcanic eruption until discovered
in 1814 by Sir Stamford Raffles.
This lecture describes its discovery by Raffles, the artistic, enlightened colonial administrator whose name is synonymous with a luxury hotel rather than the greatest Buddhist temple in the world.
It looks at other temples, including Prambanan, where carved reliefs illustrate ancient forms of sacred dance performed at Java's royal court and emulated in Bali. It reveals the exquisite dances from the Hindu island of Bali where religious rituals are central to the way of life, with daily offerings in the many temples and reverence for sacred landscapes.