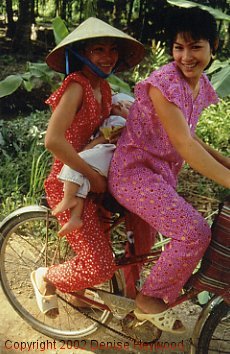 Women, Vietnam
©2021 Denise Heywood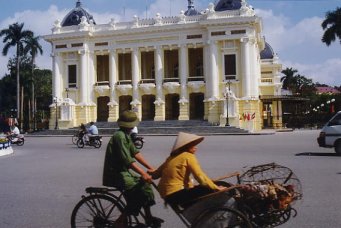 Hanoi Opera House
©2021 Denise Heywood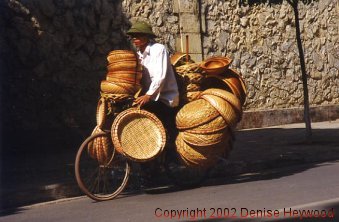 Basket Seller, Vietnam
©2021 Denise Heywood
Hanoi: The elegant French colonial city on 20 lakes, with its colourful markets, superb opera house and Old City of 36 Streets where you can buy everything from coffins to coffee. The lecture touches on the vibrant modern culture, revived since the turbulent events of the 20th century, revealed in the stylish costumes of Vietnamese women and, most especially, in contemporary painting, in both oils and lacquer, a fusion of eastern and western influences.
Champa: The ancient empire of ferociously warlike yet profoundly artistic people in central Vietnam during the 2nd -14th centuries who repelled the Mongol armies of Kublai Khan. First Hindu, then Islamic, they carved sanctuaries dedicated to Shiva.
Hue and the Perfume River: The imperial tombs of the Nguyen dynasty and the spectacularly restored Imperial Palace, a replica of the Forbidden City in Beijing.
Saigon and the south.
Denise's journey reveals the Vietnam of emerald green rice paddies, dramatic seascapes, ancient culture, animated cities and, above all, resilient and welcoming people.